Social media is a crucial component to marketing your practice.  In the digital age, a provider can't just rely on print and other traditional marketing methods to connect with current and prospective patients.
If you don't have an Instagram account set up, you're missing one of the best opportunities to have a personal engagement with your patients. Entrepreneur website Oberlo completed a survey outlining the importance of social media marketing in 2020 and beyond. The proof is in the numbers.
71% of consumers who have had a positive experience with a brand on social media are likely to recommend the brand to their friends and family.
90.4% of Millennials, 77.5% of Generation X, and 48.2% of Baby Boomers are active social media users.
Facebook alone has over 2.7 billion monthly active users.
In just over 10 years Instagram has grown from a photo-sharing app to a hub of business activity.  Instagram has more than 1 billion active monthly users and is one the most popular, fastest growing social media platform. Around  90% of them follow at least one business, 83% of users say they've discovered new products or services on Instagram, and 80% say Instagram helps them conduct research on a product and ultimately decide whether or not to make a purchase.
Instagram is an unquestionably powerful tool that you can use when marketing your practice and creating an account is simple. Just follow the steps below to get Instagram set up.
Step 1: Download the Instagram app to your phone.
Be sure to download the app that corresponds with your phone's technology (iOS, Android, or Windows).
Step 2:  Open the app and sign up.
Tap sign up. Enter your email address. You can also choose to log in with Facebook if you have an account. Next, choose your username and password and fill in your profile info. If you logged in with Facebook, you may be asked to sign in. Tap Next.
Step 3: Switch your account to an Instagram business account.
From your profile, tap the icon in the upper-right corner. Tap Settings. Some accounts may see Switch to Professional Account from this menu. If you do see this, tap it. If you don't, proceed to the next step. Tap Account.
Once you do this, you'll see the option to switch to a "Creator" account or "Business" account. Creator accounts are used by influencers, public figures, or content creators, so choose business. If you'd like to link your Instagram and Facebook business accounts, follow the steps to connect your account to your Facebook Page. Next, select your business category and add relevant contact details. And tap done to complete your profile.
Benefits of an Instagram business account
Instagram business accounts are best for brick-and-mortar businesses, brands, organizations, and service providers. A business account also offers a few more social media marketing tools and services than the personal account, such as:
Instagram analytics for people reached, impressions (the amount of times your post shows up in someone's feed), and follower demographics
The ability to boost (promote) posts and create Instagram ads
Various contact options for your business, including phone number, email address, and physical address
Creating an Instagram ad with your business account
One of the major perks of an Instagram business account is the ability to advertise or promote a post. To create an ad simply tap the Promote button on your Instagram profile to create a promotion from an existing post and then select where to direct end users (your Instagram profile, website, or direct messages).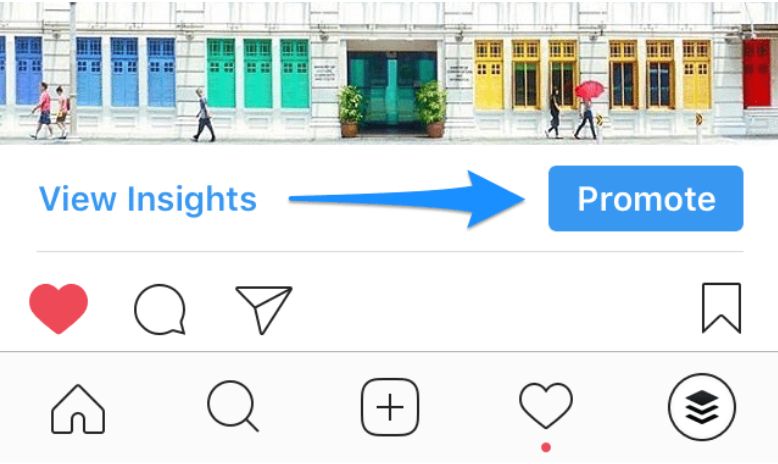 Once you create your ad, you'll be able to select your audience or create a custom audience, select your budget and send your ad for approval. Approval from Instagram usually comes within the first 24 to 48 hours.
Action buttons
Another great perk of Instagram's business accounts is the Action button. It's a newer feature on Instagram for Business and came about due to the pandemic. Because Covid-19 forced business to be online, Instagram created action buttons to produce digital interactions and experiences to aid small businesses.
Bottom line
Instagram allows you another way to create personalized experiences and interactions with your patients. It also helps you to expand your reach and target your patients with ads. Instagram is easy to set up and is worth investing your time in.